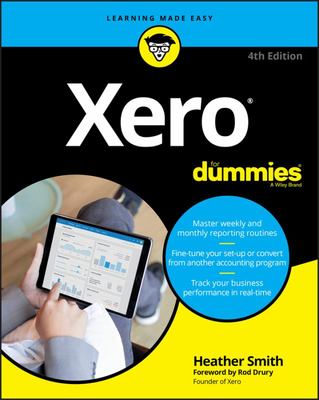 $39.95
AUD
Category: Computers
Get up and running with Xero in a flash Xero is fast emerging as the leader of online accounting software around the world, representing a serious challenge to MYOB, Sage and Quickbooks. Xero For Dummies provides you with all the information you need to set up your own Xero account from scratch, conver t to Xero from another accounting software provider or start using Xero to its full potential.  Easy to use and deceptively powerful, Xero is so much more than a spreadsheet - it can help you streamline reporting; manage inventory; simplify accounts; and organise suppliers, customers and more. Automatic imports, intuitive coding and seamless synching across multiple business platforms gets the paperwork done quickly so you can get back to running your business. This new fourth edition includes updates to the interface and coverage of the newest features, including updates on generating reports, working with fixed assets and managing contacts, sales and payables so you can optimise your system to help your business thrive.  Fine-tune your set-up, or convert from another accounting program Manage daily activities with contacts, accounts, sales and payables Master weekly and monthly reporting routines Track inventory, monitor your business and get the most out of Xero You didn't start your business in order to become an accountant, but bookkeeping is critically important to the short- and long-term health of your company. Xero simplifies the process and saves you time, and Xero For Dummies helps you leverage every feature Xero has to offer. ...Show more
$41.95
AUD
Category: Computers
The easy way to get up and running with Windows 10! With Windows 10 For Seniors For Dummies, becoming familiarized with Windows 10 is a painless process. If you're interested in learning the basics of this operating system without having to dig through confusing computer jargon, look no further. This book offers a step-by-step approach that is specifically designed to assist first time Windows 10 users who are over-50, providing easy-to-understand language, large-print text, and an abundance of helpful images along the way! ?    Protect your computer Follow friends and family online Use Windows 10 to play games and enjoy media Check your security and maintenance status  Step-by-step instructions are provided to ensure that you don't get lost at any point along the way.   ...Show more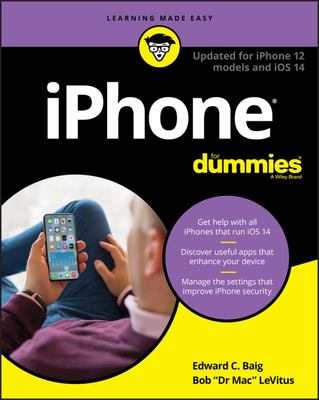 $49.95
AUD
Category: Computers
The latest edition – updated to cover iOS 14 and iPhone 12 Nothing seems to change faster than an iPhone. Just when you think you know your way around the device, a new update arrives and you have to learn everything all over again. This fully revised edition of iPhone For Dummies arrives just in time t o keep you up to date on iOS 14, the version of the iOS operating system released in late 2020, as well as all the updated features of iPhone 12. But don't worry if you're sticking with your current iPhone or buying an older model. This book offers help on using any iPhone that runs iOS 14, all the way back to iPhone 6. Written by two longtime Apple fans and experts, this revised guide covers the essentials you'll need to know about the industry-leading device and its slick iOS operating system, kicking off with set-up—navigating settings, hooking up to wifi, sharing audio and video—and then gearing you up to warp speed with the many incredible ways this smartphone's tools and apps can bring a joyful extra dimension to your life. Explore the basics of iOS 14 Enhance your interests with apps Get artsy with photos, video, and more Troubleshoot common problems Learn what makes the iPhone 12 different than the 11, X, SE, or older models Whether you're just getting started with a new phone or want to get even more from your current version, iPhone For Dummies puts the power right at your fingertips! ...Show more
$49.95
AUD
Category: Computers
Coding For Dummies, (9781119293323) was previously published as Coding For Dummies, (9781118951309). While this version features a new Dummies cover and design, the content is the same as the prior release and should not be considered a new or updated product. Hands-on exercises help you learn to code l ike a pro No coding experience is required for Coding For Dummies, your one-stop guide to building a foundation of knowledge in writing computer code for web, application, and software development. It doesn't matter if you've dabbled in coding or never written a line of code, this book guides you through the basics. Using foundational web development languages like HTML, CSS, and JavaScript, it explains in plain English how coding works and why it's needed. Online exercises developed by Codecademy, a leading online code training site, help hone coding skills and demonstrate results as you practice. The site provides an environment where you can try out tutorials built into the text and see the actual output from your coding. You'll also gain access to end-of-chapter challenges to apply newly acquired skills to a less-defined assignment. So what are you waiting for? * The current demand for workers with coding and computer science skills far exceeds the supply * Teaches the foundations of web development languages in an easy-to-understand format * Offers unprecedented opportunities to practice basic coding languages * Readers can access online hands-on exercises and end-of-chapter assessments that develop and test their new-found skills If you're a student looking for an introduction to the basic concepts of coding or a professional looking to add new skills, Coding For Dummies has you covered. ...Show more
$49.95
AUD
Category: Computers
The bestselling Excel book on the market -- now in a new edition covering the latest version of Excel Excel is the spreadsheet and data analysis tool of choice for people across the globe who utilize the Microsoft Office suite to make their work and personal lives easier. It is estimated that 1 in 7 p eople on the planet use Microsoft Office If you're one of them, and want to get up to speed on the latest changes in Excel, you've come to the right place. Excel 2019 For Dummies has been updated to reflect the major changes and features made to Excel and covers everything you need to know to perform any spreadsheet task at hand. It includes information on creating and editing worksheets, formatting cells, entering formulas, creating and editing charts, inserting graphs, designing database forms, adding database records, using seek-and-find options, printing, adding hyperlinks to worksheets, saving worksheets as web pages, adding existing worksheet data to an existing webpage, pivot tables, pivot charts, formulas and functions, Excel data analysis, sending worksheets via e-mail, and so much more Get to know the new Excel interface Become a pro at the spreadsheet and data analysis tool that's available as part of the Microsoft Office suite Find time-tested and trusted advice from bestselling author and expert Greg Harvey Use Excel to streamline your processes and make your work life easier than ever before Written by a bestselling author and seasoned educator, Excel 2019 For Dummies makes it easier than ever to get everything out of this powerful data tool. ...Show more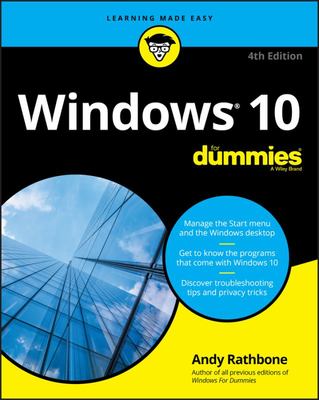 $41.95
AUD
Category: Computers
Time-tested advice on Windows 10 Windows 10 For Dummies remains the #1 source for readers looking for advice on Windows 10. Expert author Andy Rathbone provides an easy-to-follow guidebook to understanding Windows 10 and getting things done based on his decades of experience as a Windows guru. Look in side to get a feel for the basics of the Windows interface, the Windows apps that help you get things done, ways to connect to the Internet at home or on the go, and steps for customizing your Windows 10 experience from the desktop wallpaper to how tightly you secure your computer. - Manage user accounts - Customize the start menu - Find and manage your files - Connect to a printer wirelessly Revised to cover the latest round of Windows 10 updates, this trusted source for unleashing everything the operating system has to offer is your first and last stop for learning the basics of Windows   ...Show more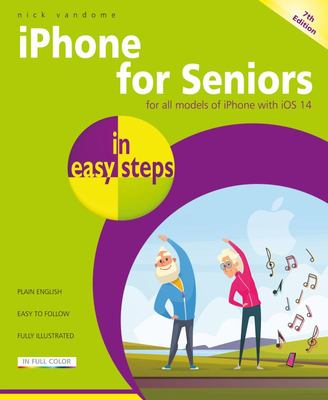 $24.99
AUD
Category: Computers | Series: In Easy Steps Ser.
iPhone for Seniors in easy steps, 7th edition covers everything you need to know to keep fully connected. With your iPhone in your pocket you are only ever a couple of taps away from friends and family. Learn how to: Make and receive phone calls Text with the Messages app, including a variety of fun features including Animojis and Memojis Make video calls with FaceTime Set up and use email accounts Use Settings to customize your iPhone exactly to your style and requirement Use Apple Pay on your iPhone to pay securely - no need to carry your wallet all the time Use apps to stay healthy, shop online, plan your vacation, get instant news, and more. Master the Control Center Explore the entire iTunes Music library, share music, videos, apps, calendars and photos with family members - stay in the loop with children and grandchildren! Apps are at the heart of the iPhone andiPhone for Seniors in easy steps, 7th edition gives a comprehensive introduction to using the preinstalled apps. It then shows how to find and download apps from the Apple App Store for: Going on vacation Online shopping Social networking Hobbies Music and videos Books Photos Keeping up-to-date with everyday tasks, through the use of the Notes, Calendar, Contacts and Reminders apps Health and wellbeing, using the Health app that is designed to collate a range of health and fitness information An in-depth chapter on iCloud, Apple's online storage, sharing and backup service, explains how iCloud works and shows how it can automatically store your data and share your photos so you don't have to worry about losing information should anything happen to your iPhone. iPhone for Seniors in easy steps, 7th edition is written in larger type for easier reading and takes the mystery out of using your iPhone, showing how it can become your most useful digital companion, ready to help keep you in touch, up-to-date, and entertained. ...Show more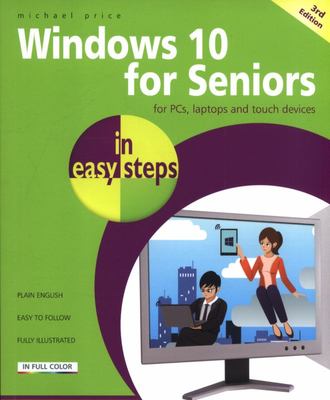 $27.99
AUD
Category: Computers | Series: In Easy Steps Ser.
Windows 10 for Seniors in easy steps, 3rd edition is written with older citizens in mind. This best-selling guide uses larger type for easy reading and takes you through the essentials a step at a time. It will help you to: Install or upgrade to Windows 10, and customize it to suit your needs Master the key features of Windows 10 on your Windows device (including PCs, laptops and touch devices) Find your way around with the Start button, the Start menu, and the new Taskbar Use the Quick Access section - an area you can personalize with your favorite apps, programs, contacts and websites so you can quickly get to the functions and files you use most often Search the web with the Microsoft Edge browser Learn about apps, find and download them, then resize and move them and maximize, minimize or close from their titlebars Understand how Cloud storage with OneDrive works, and use it for free storage and sharing files Talk to Cortana, the voice-activated Personal Digital Assistant which can perform searches on your computer or the web, perform actions like opening apps or documents, or set reminders and more This guide is filled with tips and shortcuts to help you get the most out of Windows 10, whatever your level of experience and whichever type of PC system you are using. Covers the April 2018 Update, released April 30, 2018. ...Show more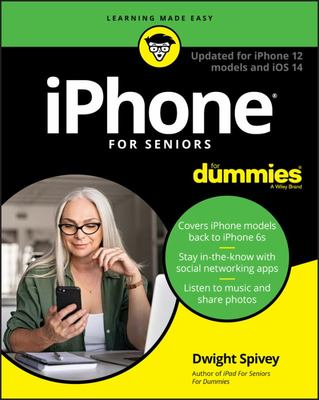 $49.95
AUD
Category: Computers
Includes coverage of iPhones 12, 11, X, SE, 8, 7, and 6 When you're looking for the most up-to-date information on your iPhone, look no further than this edition of iPhone For Seniors For Dummies. It's fully updated to cover iOS 14, the software released in Fall of 2020 that runs all iPhones dating ba ck to the iPhone 6. It doesn't matter if you have a brand new iPhone 12 or are sticking with the iPhone you've had for a few years. This book will help you navigate your device. Written especially for iPhone owners who don't need to know every detail of how their phone works, iPhone For Seniors For Dummies sticks to clear, friendly, step-by-step information on the essentials you'll use every day. It covers the basics of messaging with friends and family, using your iPhone as a web browser, watching television shows or movies, and taking and sharing photos and videos. Get to know which iPhone you own Upgrade to iOS 14 Add contacts to your Favorites list Connect your iPhone to wifi Track your well-being with the Health app Fix common problems when they occur When you're ready to build your skills and become the go-to iPhone guru for your friends, iPhone For Seniors For Dummies offers the insight you need to increase your know-how. ...Show more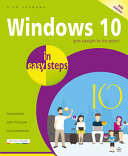 $27.99
AUD
Category: Computers | Series: In Easy Steps Ser.
Windows 10 in easy steps, 5th Edition provides full-color and comprehensive coverage of the latest Windows operating system and shows how to get the most out of it, whether you are using a desktop computer or a mobile device. It details the new features and shows how these integrate with the more tradit ional elements of the operating system, including: Upgrading to Windows 10 and personalizing it for your needs. Getting to grips with the Windows 10 interface, navigating with the Start menu, the Start button, and the Taskbar. Customizing the live tiles feature, so that you can create your own look and feel. Accessing and downloading apps, and how to work with them and organize them. Working with files and folders, and using OneDrive for free storage and sharing files. Using Cortana, the Personal Digital Assistant, to search your computer or the web or to perform actions like opening apps or documents. Getting online with the web browser, Microsoft Edge, and keeping in touch by email and Skype. Perfecting photos, viewing movies, and playing music and games. It also covers the new features in the September 2019 Update, including: An updated Start menu that consists of one column, making it more streamlined. (This applies to new PCs and laptops with the September 2019 Update, or new user accounts that are created.) A new Light Theme to give the elements of Windows 10 a crisper look and feel. A greater range of options for how updates in Windows 10 are handled, giving you more control over the update process. It is now possible to uninstall a greater range of the built-in Windows 10 apps, if required. The Search box and the button for Cortana have been separated on the Taskbar. User accounts can be created so that they can be unlocked without a password, but are just as secure. Windows 10 is one of the most significant upgrades in Microsoft's history and Windows 10 in easy steps, 5th Edition is ideal for newbies and for those wanting to quickly grasp the essentials in the September 2019 Update. ...Show more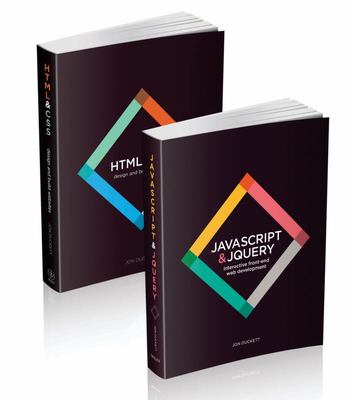 $117.95
AUD
Category: Computers
A two-book set for web designers and front-end developers This two-book set combines the titles HTML & CSS: Designing and Building Web Sites and JavaScript & jQuery: Interactive Front-End Development. Together these two books form an ideal platform for anyone who wants to master HTML and CSS be fore stepping up to JavaScript and jQuery. HTML & CSS covers structure, text, links, images, tables, forms, useful options, adding style with CSS, fonts, colors, thinking in boxes, styling lists and tables, layouts, grids, and even SEO, Google analytics, ftp, and HTML5. JavaScript & jQuery offers an excellent combined introduction to these two technologies using a clear and simple visual approach using diagrams, infographics, and photographs. A handy two-book set that uniquely combines related technologies Highly visual format and accessible language makes these books highly effective learning tools Perfect for beginning web designers and front-end developers ...Show more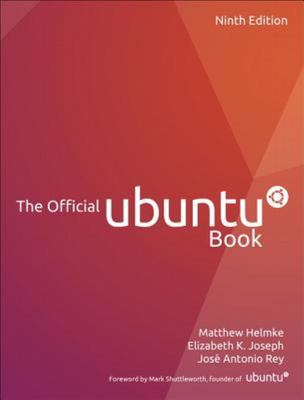 The Official Ubuntu Book
by Matthew Helmke; Elizabeth K. Joseph; José Antonio Rey
$75.00
AUD
Category: Computers
The Official Ubuntu Book, Ninth Edition, introduces readers to Ubuntu, a cost-free open source operating system that combines the latest trends in style and usability with solid, stable technology, and by default includes all the basic productivity packages you need for most people's work or play needs. ...Show more