$19.99
AUD
Category: Classics
A timeless classic which is often considered a masterpiece in its genre , the novel is written in a futuristic World State, whose citizens are environmentally engineered into an intelligence-based social hierarchy, the novel anticipates huge scientific advancements in reproductive technology, sleep-lear ning, psychological manipulation and classical conditioning that are combined to make a dystopian society which is challenged by only a single individual: the story's protagonist.   ...Show more
$19.99
AUD
Category: Classics
"The Crucible" is a 1952 play by the American playwright Arthur Miller. It is a dramatization of the Salem witch trials that took place in the Province of Massachusetts Bay during 1692 and 1693. Miller wrote the play as an allegory of McCarthyism, when the US government blacklisted accused communists. M iller himself was questioned by the House of Representatives' Committee on Un-American Activities in 1956 and convicted of "contempt of Congress" for refusing to identify others present at meetings he had attended. It was first performed at the Martin Beck Theater on Broadway on January 22, 1953. Miller felt that this production was too stylized and cold and the reviews for it were largely hostile (although The New York Times noted "a powerful play in a driving performance"). Nonetheless, the production won the 1953 "Best Play" Tony Award. A year later a new production succeeded and the play became a classic. It is a central work in the canon of American drama.Fuji Books' edition of "The Crucible" contains supplementary texts:* "Tragedy And The Common Man", an essay by Arthur Miller.* Excerpts from Nathaniel Hawthorne's magnus opus "The Scarlet Letter", a narrative of the Salem Witch trials.* A few selected quotes of Arthur Miller. ...Show more
$19.99
AUD
Category: Classics
A few miles south of Soledad, the Salinas River drops in close to the hillside bank and runs deep and green. The water is warm too, for it has slipped twinkling over the yellow sands in the sunlight before reaching the narrow pool. On one side of the river the golden foothill slopes curve up to the stro ng and rocky Gabilan Mountains, but on the valley side the water is lined with trees- willows fresh and green with every spring, carrying in their lower leaf junctures the debris of the winter's flooding; and sycamores with mottled, white, recumbent limbs and branches that arch over the pool. On the sandy bank under the trees the leaves lie deep and so crisp that a lizard makes a great skittering if he runs among them. Rabbits come out of the brush to sit on the sand in the evening, and the damp flats are covered with the night tracks of 'coons, and with the spread pads of dogs from the ranches, and with the split-wedge tracks of deer that come to drink in the dark. ...Show more
$12.99
AUD
Category: Classics | Series: Popular Penguins Ser.
Korean edition of Boy by Roald Dahl. Illustrated by Quentin Blake, translated by Jeong Hwoi Seong. In Korean. Distributed by Tsai Fong Books, Inc.
A Tale of Two Cities
by Charles Dickens; Peter Merchant (Introductions and notes by); Hablot K. Browne (Illustrator)
$7.99
AUD
Category: Classics | Series: Classics Library
It was the best of times, it was the worst of times, it was the age of wisdom, it was the age of foolishness, it was the epoch of belief, it was the epoch of incredulity, it was theseason of Light, it was the season of Darkness, it was the spring of hope, it was the winter of despair, we had everything before us, we had nothing before us, we were all going direct to Heaven, we were all going direct the other way-- in short, the period was so far like the present period, that some of its noisiest authorities insisted on its being received, for good or for evil, in the superlative degree of comparison only. ...Show more
$19.99
AUD
Category: Classics
All animals are equal. But some animals are more equal than others. Mr Jones of Manor Farm is so lazy and drunken that one day he forgets to feed his livestock. The ensuing rebellion under the leadership of the pigs Napoleon and Snowball leads to the animals taking over the farm. Vowing to eliminate the terrible inequities of the farmyard, the renamed Animal Farm is organised to benefit all who walk on four legs. But as time passes, the ideals of the rebellion are corrupted, then forgotten. And something new and unexpected emerges. . . Animal Farm- the history of a revolution that went wrong - is George Orwell's brilliant satire on the corrupting influence of power.   ...Show more
$18.99
AUD
Category: Classics
Ray Bradbury's internationally acclaimed novel Fahrenheit 451 is a masterwork of twentieth-century literature set in a bleak, dystopian future. Guy Montag is a fireman. In his world, where television rules and literature is on the brink of extinction, firemen start fires rather than put them out. His jo b is to destroy the most illegal of commodities, the printed book, along with the houses in which they are hidden. Montag never questions the destruction and ruin his actions produce, returning each day to his bland life and wife, Mildred, who spends all day with her television "family." But then he meets an eccentric young neighbor, Clarisse, who introduces him to a past where people didn't live in fear and to a present where one sees the world through the ideas in books instead of the mindless chatter of television. When Mildred attempts suicide and Clarisse suddenly disappears, Montag begins to question everything he has ever known. He starts hiding books in his home, and when his pilfering is discovered, the fireman has to run for his life. ...Show more
$12.95
AUD
Category: Classics | Series: Text Classics
"This is not a romance - I have too often faced the music of life to the tune of hardship to waste time in snivelling and gushing over fancies and dreams; neither is it a novel, but simply a yarn - a real yarn. Oh!" Written with all the high spirits of youth, My Brilliant Career is the unforgettable tal e of Sybylla Melvin, a headstrong country girl - passionate, endearing, stubborn, honest - and her fraught journey from rags to riches to rags. ...Show more
$14.99
AUD
Category: Classics
Brave New World is a novel written in 1931 by Aldous Huxley and published in 1932. Set in London of AD 2540 (632 A.F. - "After Ford" - in the book), the novel anticipates developments in reproductive technology, sleep-learning, psychological manipulation, and operant conditioning that combine to profou ndly change society. ...Show more
$7.99
AUD
Category: Classics | Series: Wordsworth Classics
Far from the Madding Crowd is perhaps the most pastoral of Hardy's Wessex novels. It tells the story of the young farmer Gabriel Oak and his love for and pursuit of the elusive Bathsheba Everdene, whose wayward nature leads her to both tragedy and true love. It tells of the dashing Sergeant Troy whose r akish philosophy of life was '...the past was yesterday; never, the day after'. And lastly, of the introverted and reclusive gentleman farmer, Mr Boldwood, whose love fills him with '...a fearful sense of exposure', when he first sets eyes on Bathsheba. The background of this tale is the Wessex countryside in all its moods. ...Show more
The New Annotated H. P. Lovecraft V1 (HB)
by Howard Phillips Lovecraft; Leslie S. Klinger (Editor); Alan Moore (Introduction by); James McCourt
$55.00
AUD
Category: Classics | Series: Annotated Ser.
A Slate, and San Francisco Chronicle Best Book of 2014 From across strange aeons comes the long-awaited annotated edition of "the twentieth century's greatest practitioner of the classic horror tale" (Stephen King). "With an increasing distance from the twentieth century...the New England poet, author , essayist, and stunningly profuse epistolary Howard Phillips Lovecraft is beginning to emerge as one of that tumultuous period's most critically fascinating and yet enigmatic figures," writes Alan Moore in his introduction to The New Annotated H. P. Lovecraft. Despite this nearly unprecedented posthumous trajectory, at the time of his death at the age of forty-six, Lovecraft's work had appeared only in dime-store magazines, ignored by the public and maligned by critics. Now well over a century after his birth, Lovecraft is increasingly being recognized as the foundation for American horror and science fiction, the source of "incalculable influence on succeeding generations of writers of horror fiction" (Joyce Carol Oates). In this volume, Leslie S. Klinger reanimates Lovecraft with clarity and historical insight, charting the rise of the erstwhile pulp writer, whose rediscovery and reclamation into the literary canon can be compared only to that of Poe or Melville. Weaving together a broad base of existing scholarship with his own original insights, Klinger appends Lovecraft's uncanny oeuvre and Kafkaesque life story in a way that provides context and unlocks many of the secrets of his often cryptic body of work. Over the course of his career, Lovecraft--"the Copernicus of the horror story" (Fritz Leiber)--made a marked departure from the gothic style of his predecessors that focused mostly on ghosts, ghouls, and witches, instead crafting a vast mythos in which humanity is but a blissfully unaware speck in a cosmos shared by vast and ancient alien beings. One of the progenitors of "weird fiction," Lovecraft wrote stories suggesting that we share not just our reality but our planet, and even a common ancestry, with unspeakable, godlike creatures just one accidental revelation away from emerging from their epoch of hibernation and extinguishing both our individual sanity and entire civilization. Following his best-selling The New Annotated Sherlock Holmes, Leslie S. Klinger collects here twenty-two of Lovecraft's best, most chilling "Arkham" tales, including "The Call of Cthulhu," At the Mountains of Madness, "The Whisperer in Darkness," "The Shadow Over Innsmouth," "The Colour Out of Space," and others. With nearly 300 illustrations, including full-color reproductions of the original artwork and covers from Weird Tales and Astounding Stories, and more than 1,000 annotations, this volume illuminates every dimension of H. P. Lovecraft and stirs the Great Old Ones in their millennia of sleep. ...Show more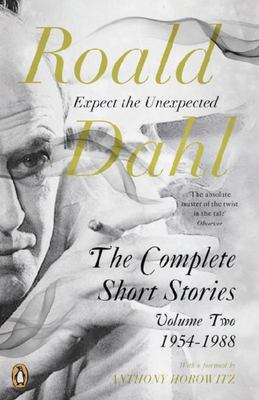 $35.00
AUD
Category: Classics
The Complete Short Stories of Roald Dahl in the second of two unsettling and sinister volumes. "Dahl finds the child in the adult and the adult in the child and, with a little smile, he sticks the knife in both". (Anthony Horowitz, from his introduction). Roald Dahl is one of the world's most popular wr iters, equally at home writing for both children and adults. In this, the second of two volumes chronologically collecting all his published adult short stories, we experience Dahl's dark and powerful imagination in full flight in 28 stories written between 1954 and 1988 (including eight tales which are not available in any other printed edition). Here, in 'Parson's Pleasure', a piece of furniture is the subject of a deceitful bargain; in 'William and Mary', a wife revenges herself on her dead husband; and in 'Royal Jelly' some new parents find an unusual and unsettling way to give their newborn its start in life. Whether you're young or old, once you've stepped into the brilliant, troubling world of Roald Dahl, you'll never be the same again. "One of the most widely read and influential writers of our generation". (The Times). "The absolute master of the twist in the tale". (Observer). Look out for Volume One, introduced by Charlie Higson. Roald Dahl, the brilliant and worldwide acclaimed author of Charlie and the Chocolate Factory, James and the Giant Peach, Matilda, and many more classics for children, also wrote scores of short stories for adults. These delightfully disturbing tales have often been filmed and were most recently the inspiration for the West End play, Roald Dahl's Twisted Tales by Jeremy Dyson. Roald Dahl's stories continue to make readers shiver today. ...Show more